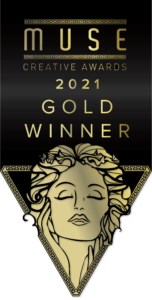 Mercer Music at Capricorn and Riggs Ward Design received the Gold award for Experiential and Immersive Design in the 2021 MUSE Creative Awards and MUSE Design Awards, which received nearly 4,000 entries showcasing creative and design excellence from across the world.
Riggs Ward Design of Richmond, Virginia, was selected in December 2018 to plan, design and install interpretive exhibits at Mercer Music at Capricorn.
As part of the 20,000-square-foot complex, which also includes a music incubator, commercial studios, and co-working space and meeting rooms for nonprofits and creatives, the two-story museum opened one year later to tell the story of Capricorn Records and Macon's music heritage through historic artifacts, static exhibits and interactive digital kiosks featured music, video and text. The museum was curated by Jared Wright and fabricated and installed by Building Four Fabrication.
"It's an honor to have Mercer Music at Capricorn recognized by the MUSE Creative Awards, especially in the category of Experiential and Immersive Design," said Wright. "The team at Riggs Ward did an incredible job of translating a vision for the space into an experience that compliments the look and feel of the historic Capricorn Sound Studios while allowing a unique exploration of music and artifacts in a digital environment. The end result really speaks to the vision of Mercer Music at Capricorn to celebrate Macon's musical heritage while progressively promoting and investing in its musical future."
The MUSE Awards are a series of international competitions hosted by the International Awards Associate (IAA) promoting excellence among professionals from various industries.
"There is a saying that 'there is nothing new under the sun,'" said Kenjo Ong, CEO of IAA. "It couldn't be any further from the truth – there is always something fresh and exciting from the competitors every year."
IAA ensures impartiality and strict assessment criteria by setting up a jury made up of industry professionals who exhibit high standards of excellence. In turn, the jury selects a new wave of excellent individuals or organizations who will likely set new benchmarks in their fields.
A total of 44 jurors, representing 23 countries and leading companies from the creative and digital industries, evaluated each entry using standards found in their respective industries. To ensure impartiality, blind judging is exercised, and jurors are only able to assess each entry purely on its own merits. This year's competition received a total of 3,942 entries.
The original Capricorn Sound Studios captured and defined the Southern rock sound of the 1970s, producing the music of legends such as the Allman Brothers Band, the Marshall Tucker Band, the Charlie Daniels Band, Wet Willie, Elvin Bishop and many others.
Mercer Music at Capricorn, which was dedicated Dec. 3, 2019, on the 50th anniversary of Capricorn Sound Studios, is building on that rich legacy to educate and inspire a new generation of musicians in Macon and beyond.
The museum at Mercer Music at Capricorn was previously recognized at the 2020 Southeastern Museums Conference, where it won Gold in the Technology Competition, and it was also named a "Museum exhibit worth planning a trip around in 2020" by CNBC. Additionally, Architectural Digesthighlighted it among the "Leading Design-Forward Museums Opening in 2020."